GOMIAM aims to create a dialogue between small-scale miners, local communities, politicians,  NGOs and academic experts that are involved in small-scale gold mining. GOMIAM organizes and participates in academic and non-academic meetings.
Final GOMIAM meeting, Cusco-Peru, 17-19 February 2016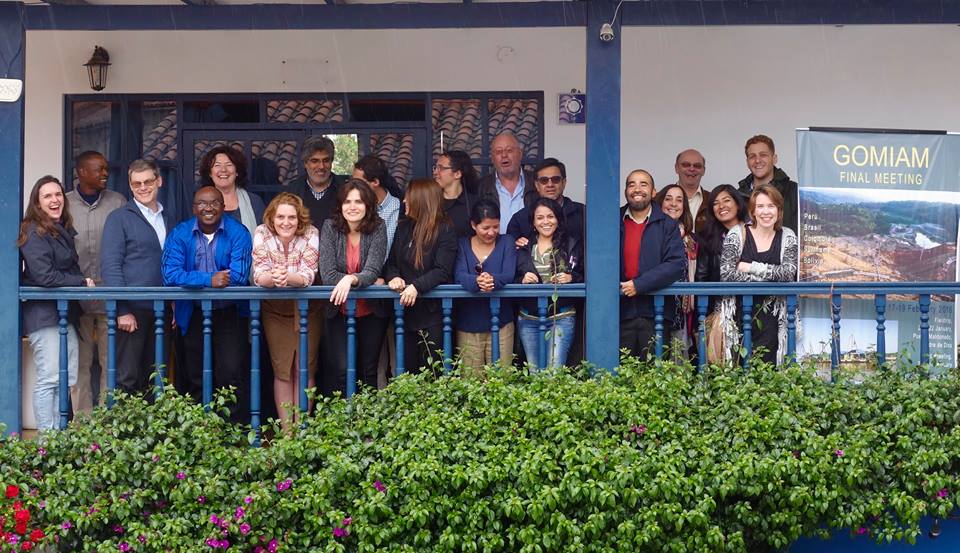 CoCooN Xchange Event, The Hague, 25-27 November 2015
Australian National University Conference: "Between the plough and the pick. Informal mining in the contemporary world", Canberra, 5-6 November 2015
GOMIAM meeting, Amsterdam, 7-9 September 2015
GOMIAM Platform meetings
GOMIAM organized platform meetings. These meetings were meant to create a dialogue between small-scale miners, local communities, politicians, and NGOs that are involved in artisanal and small-scale gold mining. They were held in 2015 in various Latin American countries.
"The Guiana Shield as a trans frontier gold field", 20-21 November, Suriname. Organized by GOMIAM.
The purpose of this meeting was to share research results and insights from Guiana shield countries about ways in which the causes, form and effects of small-scale gold mining cross national boundaries in the region.
Themes of this workshop were mercury use and responsible mining techniques, governance and politics, and flows of people, money, gold and equipment.
See here the interview with GOMIAM on the national television of Suriname.
GOMIAM at International Congress of the European Association of Social Anthropologists.
August 2014. GOMIAM attended the EASA Congress in Tallinn, Estonia. Two GOMIAM papers were presented in the panel "Mining technology: practices, knowledge and materials across and beyond the mines".
Marjo de Theije presented a paper she co-authored with Sabine Luning called "Technologies of mobility in small-scale gold mining", focusing on the mobility of gold across borders in the Guyanas.
Ton Salman presented a paper called "Technologies of gold mining in Morales' Bolivia: cooperatives, process organization, and the protection of the Amazon."
GOMIAM at LASA 2014: Democracy & Memory. 
From May 21st to May 24th, GOMIAM attended the International Congress of the Latin American Studies Association, in Chicago. Five GOMIAM papers were presented:
Marjo de Theije & Sabine Luning. Bordermen and mining expertise: identity and authority in the Lawa gold fields.
Ton Salman. Bolivia small scale gold miners: when the meek become the mighty.
Gerardo Damonte. Playing at the margins of the State: Small Scale Miners and the State formalizing quest in Madre de Dios.

Alexandra Urán. Relaciones de Género y las Representaciones Socio-culturales de la Minería Chocoana: resistencia y equidad.
Judith Kolen & Eline de Smet. Formalization of small-scale gold mining hamlets: the interplay between self-construction and government initiatives in the Tapajós region in Pará, Brazil.
SURIMEP 2014. 
1st Suriname International Mining, Energy & Petroleum Conference and Exhibition.
Presentation by Marjo de Theije. http://surimep.com/programme-2/presentations/